29 Jun

PREGNANT SCHOLAR PROFILE: Sade Johnson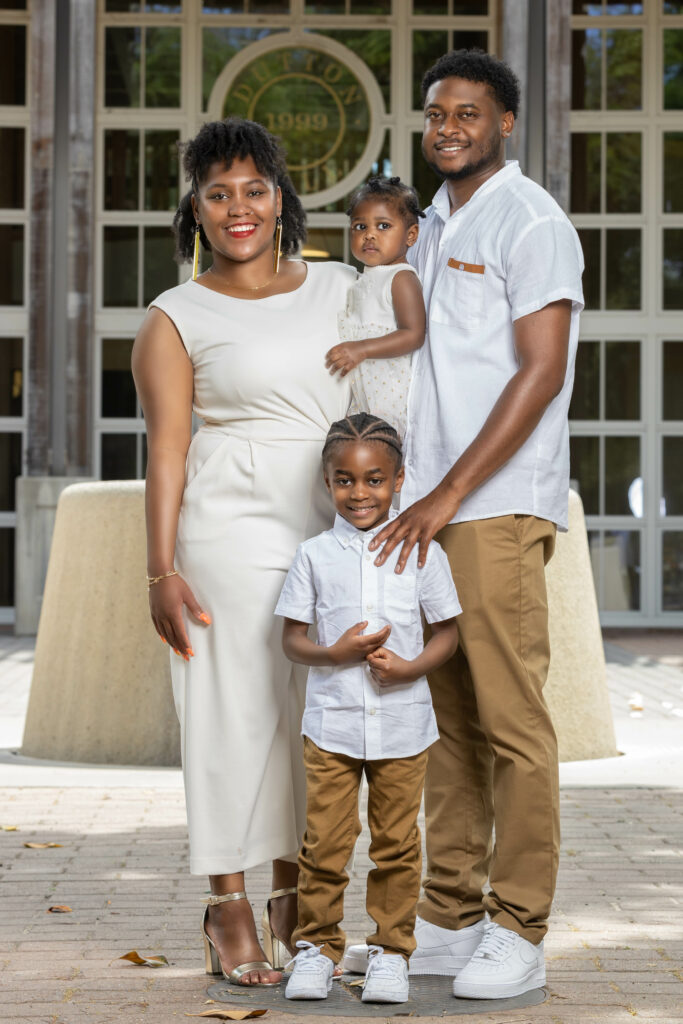 Sade is currently working towards her Master's in Higher Education Administration & Leadership at California State University, Fresno. As a mother of two, Sade's insight reveals important lessons about what works and what needs to be improved to best support pregnant and parenting students.
Read on to learn more about Sade's story and to better understand the steps you can take to ensure pregnant students and student parents feel seen, valued, and heard on your campus.
Tell us a bit about you and your background.
I am a wife, mother of two children, and a student. My family comes first. I have been pregnant twice: once at community college (dual enrollment at Fresno City College and Clovis Community College) and once at the University of California Davis. I grew up in a big family; I have ten siblings, and I was system-impacted. My father was stuck in an incarceration cycle, and my mom could not afford to take care of us. I am also a first-generation college student.
How old are your children and when in your educational journey did you have them?
My son is 6 and my daughter is 2. The first time I was pregnant, I was at Clovis Community College after withdrawing from UC Davis. I had to take some time off. I worked as a bus driver for a few years and made the decision not to return to school until my son was a little older and could attend daycare. I found out I was pregnant with my daughter when I decided to return to UC Davis.
Can you tell us about your experience as a student parent?
Some professors gave me grace. It was always helpful when professors let me take a final early or submit a paper early if needed, but I did not always feel supported. I was struggling with morning sickness, and my son was having a hard time in preschool. It was also hard to be away from our family and support system who were not in Davis.
I also didn't like how UC Davis sets up student parents. I felt like my family was assigned housing that didn't account for the fact that I was pregnant or that we had kids. For example, it was hard to go up and down stairs to do laundry, there were not enough washers and dryer for the complex, and many of them were broken, and we needed to purchase air purifiers and air conditioning units. After I gave birth, I could not physically go to class because of stitches and the 6-8 week recovery period. I was told that some academic departments "didn't have enough money" to record classes when I could not be there, and when I decided to go down to part-time, they wanted to kick me out of on-campus housing, both of which were tough experiences to navigate.
My child is an extension of me, and I think it is important for schools to remember that. You can admit student parents, but it will not be impactful if you do not accommodate them.
What were some of the challenges you faced as a student parent?
I did not feel as if I belonged as a student parent. I also did not feel as if I belonged as a Black student. I was often the only Black person in class, and I know other students did not understand what it meant to be Black and to be pregnant and have a child.
Other challenges included balancing finances for tuition, childcare, and basic needs. It was also hard that services for student parents are not centralized and staff often did not talk to each other. It was clear that some staff had a gap in understanding and awareness about what support was available for student parents, and I had to implement self-advocacy.
When I was six months pregnant, I fainted. A professor told me I would get a zero on a quiz if I did not show up, but the lowest score the lowest grade would be dropped. She told me not to worry, but I wanted to have the choice to take the quiz. So instead of resting after I fainted, I was cornered and had to go to class anyway for the sake of my grades, as my housing depended on my grades and student status.
From your perspective, what are the biggest challenges facing pregnant and parenting students? What can be done to counteract those challenges?
Focus on basic needs first. Student parents need somewhere to live, sleep and eat, and they also need childcare. It's also important to ask student parents what they want; for example, at my job we take into consideration the type of gift cards we offer to student parents. Student-parents should have access to healthy food regardless of cost. Healthy meals are important to us and so are fast meals. It would also be great to have childcare on campus from 8AM- 8PM so that students can get all of their work done in that window. Campus-based childcare is limited and based on class schedule without considering the time students need to study or go to office hours.
Priority registration is a huge need so that student parents can register first and balance their childcare needs. They established this at UC Davis the year I left. Connecting the registrar's office to student parents so that they can survey students and find viable class times would also be beneficial.
Family friendly spaces are needed. I do not bring my children to campus often, but when I do, it is great for people to be understanding. Classrooms could have tiny desks for children! And professors could work on their response for accommodation. They often ask "How old are they? Will they be a distraction?" and it makes me and my children feel unwelcome. Kindness is important. Family friendly events and mixers are awesome.
I think universities could also pull more on their student capital. For example, and like I said before, my children are an extension of me. I pay student fees, and it would be great to receive lessons and opportunities for my children on campus. Maybe there are other students on campus who need community service hours or could get credit for service-learning opportunities or want to get experience in working with children. This might look like music lessons, swimming lessons, kids' play, or supplemental STEM programs.
What does it mean to you that the support for pregnant and parenting students wasn't always there?
It caused a lot of confusion and doubt. If my household is failing, there is only so long I can stay in school, which impacts retention. It was hard to not have family-friendly spaces and centralized support—this would make things so much easier!
What are you most proud of accomplishing?
I thought I would be most proud of getting my degree, but I am most proud of parenting while getting my degree. My son and daughter will know about college; they saw me do it, and they saw me finish it. My children will not be first-generation college students. This was about pursuing something for me and also for them. It has also influenced my husband to go back and pursue a degree.
Is there anything else you want to share?
I want to reiterate that intersectionality matters. When I was giving birth to my daughter, I was thinking about the Black maternal mortality rate. My husband and son could not be with me because of COVID. I told the nurse that "I need to make it back home." I needed to say that because I did not get to say goodbye to my family because of the intense contractions, and I need anyone who is working with Black mothers to remember that this is our reality. Also, my kids were born at God's divine time which were at the end of semesters. This journey would have been so much harder if they were due in the middle of the semester or quarter. This reflects just how much more work is still needed.
What would you tell other student parents who are attending college and are in a similar situation?
If you are going to do it for anybody, do it for your children. I am not saying it's going to be easy; it's going to be hard. Never forget to be your voice even when people want to silence you. Find your community. Leave a change even if it is small. Many students have kids, so it's important that we do not just focus on our own kids. The changes we make might not be perfect but at least we are working to create systems and support for those to come. And keep working to create pathways for our children and for following generations!
Go, Sade! The Pregnant Scholar Team can't wait to see what else you accomplish!
Are you a pregnant or parenting scholar who wants to share their story? Reach out and let us know here.