22 Feb

PREGNANT SCHOLAR PROFILE: Guyshana Alston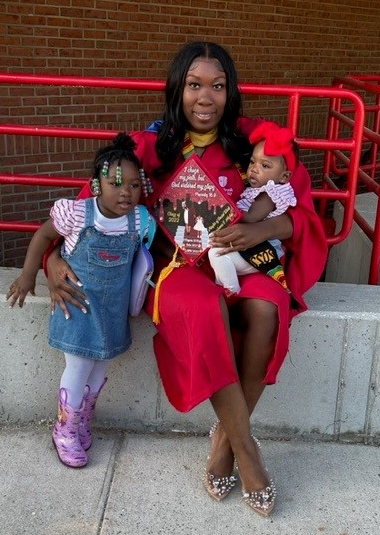 The Pregnant Scholar team recently spoke with Guyshana Alston, a mother of two who received her Master's of Social Work in New York City. Keep reading to learn more about Guyshana's story as a pregnant student and her desire to ensure all pregnant & parenting students know about their rights under Title IX.
How old are your children and when in your educational journey did you have them?
I have a one-year-old and a two-year-old now. When I got accepted into the Master's of Social Work program in 2019, I was pregnant with my first daughter. I was pregnant again in 2021. My children were with me throughout my academic career. I did it for them and with them.
What has your experience been in school? How did being pregnant as a student (or your school's response) impact your experience?
My school was very unsupportive of my pregnancies both times. I was misinformed and had to go through many obstacles to get accommodations. I was told I needed to take time off and drop to being part time. I was forced to do an extra year due to lack of support from the school. I was sent to the different offices because nobody seemed to know which office supports pregnant students. During my first pregnancy I was lucky enough to find someone in the Title IX office that understood the rights of pregnant student and got the right staff to accommodate me by giving me extended due dates for assignments and allowing me to take classes virtually. When I wasn't being helped during my second pregnancy, I reached out to that lady again but unfortunately, she was no longer at the university. When I wanted to make a complaint, I had to fill out a form called 'Title IX Sexual Harassment' since there were no forms for pregnant students to fill out.
What were some of the challenges you faced as a student parent?
I was in a social work program that requires two internships to meet graduation. I had to really advocate to get a virtual internship. The school did not want to give me a virtual internship although I was pregnant and provided documentation. The professors were more supportive than administrative staff. Thankfully it was all virtual, but they were ok with me being on camera holding the baby or turning my camera off to nurse. I faced the challenge of having to delay my studies and take an extra year to complete the program. Also, my school was in the city of New York and there was no parking in the area. I had to explain to them why I didn't want to take public transportation in the middle of a global pandemic to get to class.
From your perspective, what are the biggest challenges facing pregnant and parenting students? What can be done to counteract those challenges?
I think the biggest challenge is knowing where to go in the school for support. There's nothing on the school website that acknowledges pregnant students or tells them their rights. It sends the message that pregnant students have no place on campus. I was sent to the student accessibility center, and nobody there could help me, and I was told pregnancy is not a disability. I'm naturally an advocate so I emailed the dean of students, Title IX staff and anyone that would hear me out to get accommodations. But I know other students may not be as empowered and me and may be forced to put their studies off when they don't have to. I think at orientation pregnant and parenting students should be acknowledged. A short PowerPoint will go a long way. Even if there are no students pregnant at that time, the information will be helpful to get passed along and be useful for if a student becomes pregnant during their academic career. Also, I think it will be important to have an on-campus student community for student parents to connect.
What does it mean to you that the support for pregnant and parenting students wasn't always there? (If not stated above, what was the impact on you personally, professionally, how did you feel?)
I became a social worker to advocate and serve underserved populations. Being a pregnant student opened my eyes to the lack of inclusion for pregnant students. Although Title IX is a law, it's not really publicized so many aren't aware of it, including staff.
What are you most proud of accomplishing?
I'm most proud of getting my degree despite the many barriers I had to face. I was pregnant and parenting during a global pandemic. I am the first in my family to obtain higher education and I'm happy I got to do it with my daughters watching. Although they may have been too young to understand my accomplishment, they'll be able to enjoy the fruits of my labor and know hard work pays off. Everyone praised me for graduating with two children under three years old. My children weren't a barrier to my education—they were motivation.
What advice would you give to professors or administrators looking to support student parents?
I think they should be informed about resources on and off campus so they can share the knowledge with students who may not be aware.
What would you tell other student parents who are attending college and are in a similar situation?
I would tell them about their rights through Title IX. I wish someone would have told me. I would encourage them to keep on pushing and don't drop out or take time off even if that is what is being told to them. Keep going for your children.
What's next for you? What are your goals post-graduation?
After graduation, I became a certified doula to physically and mentally support women during childbirth. I want to support pregnant women in any capacity that I can. I also am a social worker working with vulnerable children & families in NYC. I have always been passionate about being a voice to those in need and now that I have seen firsthand the discrimination and lack of support pregnant students face in educational settings, I want to spread awareness. My goal is to advocate and do public speaking at universities to inform students of their rights and to build a community.
Go, Guyshana! Thank you for sharing your story. We're rooting for you!
Are you a pregnant or parenting scholar who wants to share their story? Reach out and let us know here.